The Plan
The 2045 Regional Transit Element was adopted by the NFRMPO Planning Council on November 1, 2018.
The 2045 Regional Transit Element (RTE) is a long-range plan that establishes a community-inspired vision for northern Colorado's transit system. The plan outlines goals and identifies strategies to continue enhancing our region's transit network. The RTE is updated every four years in conjunction with our Regional Transportation Plan (RTP). Transit includes local buses like COLT, GET and Transfort; regional buses like FLEX and Bustang; paratransit; and volunteer services like SAINT and Senior Resource Services (SRS).
2045 Regional Transit Element – Complete Document
Chapter 1: Introduction
Chapter 2: Socioeconomic Data
Chapter 3: Transit System
Chapter 4: Financial Analysis
Chapter 5: Demand and Alternatives Analysis
Chapter 6: Recommendations and Implementation
Appendix A: Public Involvement
Appendix B: Socioeconomic Data
Appendix C: Transit Development Program
Appendix D: Transfort Transit Asset Management Plan
The Process
Developing a long-range transit vision for a large region requires a great deal of partnership and collaboration. The 2045 RTE Steering Committee was established to help connect a broad and diverse cross section of the region's community to the planning process. Committee members include representatives from transit agencies, senior and disabled mobility organizations, student groups, and health advocacy organizations.
The 2045 RTE Steering Committee provided regional perspectives during the development of key plan components. Importantly, the Committee also provided connections to other regional partners facilitating and emboldening the community outreach process.
Our Schedule
RTE development began in January of 2018 and went to the NFRMPO Planning Council for approval in November 2018. The plan itself was developed from February through September of 2018 with final NFRMPO Planning Council approval in November. Community outreach was a core component of the planning process from start to finish.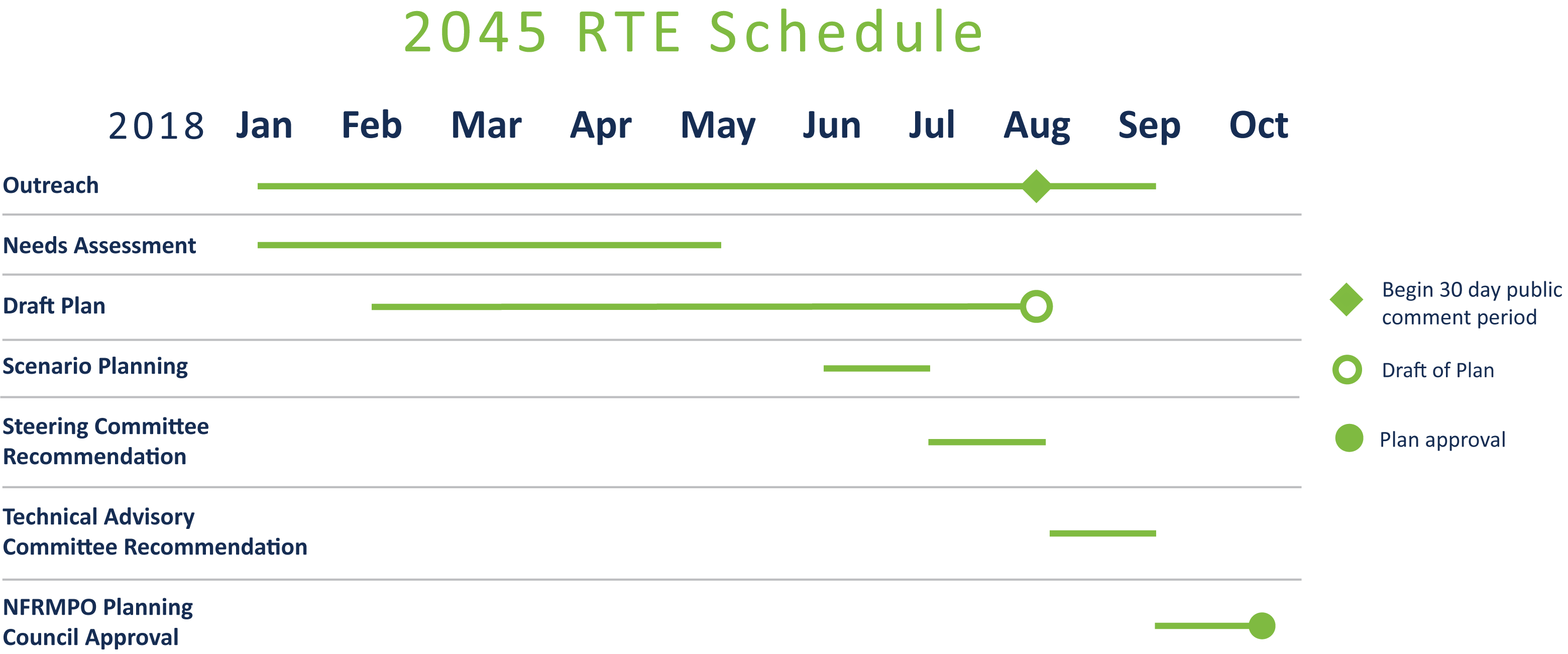 Tell Us Your Thoughts
Although public comment has closed on the 2045 RTE, we would still love to hear from you! Give us your feedback through these quick and easy tools or show us your favorite destinations on this map.
Questions and Comments
Please contact Alex Gordon at agordon@nfrmpo.org or (970) 289-8279 if you have any questions or comments.