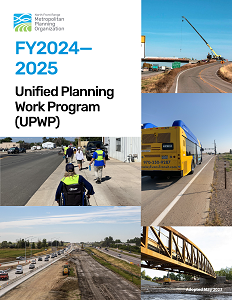 The Unified Planning Work Program (UPWP) guides the transportation planning work for the NFRMPO. This document identifies tasks that specify work products and funding sources to the North Front Range Metropolitan Planning Organization (NFRMPO), its member governments, and to CDOT.
Responsibility for carrying out the Continuing, Comprehensive, and Cooperative (3C) planning process rests jointly with the NFRMPO, the three municipalities with transit, and CDOT, as described in the 2018 Memorandum of Agreement (MOA) between the five agencies. The 3C process in the NFRMPO area is designed to provide for centralized administration combined with maximum participation and direction from local governments.
Beginning in February, a proposed budget for UPWP for the fiscal year commencing the following October 1 is prepared in coordination with NFRMPO staff, along with input from CDOT's Division of Transportation Development (DTD) and CDOT Region 4 representatives.  Once completed, the UPWP budget is approved by the Finance Committee of the NFRMPO Planning Council and the work tasks are recommended by TAC. The budget includes tasks, proposed expenditures, and the funding sources. The Planning Council adopts the full UPWP in June by formal resolution.
NFRMPO project expenditures may not exceed the UPWP budgeted totals. Any revisions that alter the total budgeted expenditures of any tasks must be approved by the Planning Council.  Amendments between work tasks may be completed through an administrative amendment, to be formally incorporated into an amended UPWP.
Current UPWP:
FY2024-2025 UPWP – Adopted May 2023
Previous UPWPs:
FY2022-2023 UPWP – Amended February 2023
FY2022-2023 UPWP – Amended June 2022
FY2022-2023 UPWP – Approved September 29, 2021
FY2020-2021 UPWP – Amended May 2021
FY2020-2021 UPWP – Amended December 2020
FY 2018-2019 UPWP – Updated September 2019
FY 2017 UPWP – Updated February 2017
FY 2016 UPWP
UPWP Year End Reports
At the end of each fiscal year, the NFRMPO prepares a Year End Report to show progress made on tasks identified in the UPWP.
2022 Year End Report
2021 Year End Report
2020 Year End Report
2019 Year End Report
2018 Year End Report
If you have UPWP-related questions or comments, please contact Becky Karasko, AICP at bkarasko@nfrmpo.org or (970) 289-8281.