The 2050 RTP is under development
Coming Soon: 2045 RTP Update
In 2022, the NFRMPO is updating the 2045 RTP to meet new State requirements for greenhouse gas (GHG) emissions. Information on the 2045 RTP 2022 Update will be posted on this webpage or click here to subscribe for emailed updates on the RTP.
2045 RTP
The 2045 Regional Transportation Plan (RTP) provides a long-range vision for the North Front Range regional transportation system and guides the implementation of multimodal transportation improvements, policies, and programs in the region.
With a projected population increase of 88 percent from 2015 to 2045, the North Front Range region is rapidly growing and requires strategic transportation investments to maintain a vibrant economy. The 2045 RTP is a federally mandated plan that helps prepare for the future through corridor visioning which captures current and future transportation characteristics of significant corridors for all travel modes and identifies a fiscally-constrained corridor plan.
The 2045 RTP was adopted by the North Front Range Transportation & Air Quality Planning Council (NFRT&AQPC) on September 5, 2019.
See the links below for the complete document, individual chapters, and the 4-page summary brochure.
2045 Regional Transportation Plan – Complete Document

Executive Summary
Chapter 1: Introduction
Chapter 2, Section 1: NFRMPO System
Chapter 2, Section 2: Socio-Economic Profile
Chapter 2, Section 3: Performance-Based Planning
Chapter 2, Section 4: Environmental Profile
Chapter 2, Section 5: Safety and Resiliency
Chapter 3, Section 1: Technology
Chapter 3, Section 2: Vision Plans
Chapter 3, Section 3: 2045 Forecast and Scenarios
Chapter 3, Section 4: Fiscally Constrained Plan
Chapter 3, Section 5: Plan Projects
Chapter 4: Public Outreach
Chapter 5: Implementation
Appendix A: Air Quality Conformity
Appendix B: Unconstrained Plan Projects
Appendix C: 2019 System Performance Report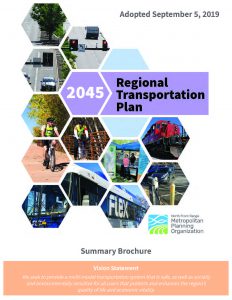 2045 RTP Summary Brochure
2045 RTP Summary Brochure – Spanish
A copy of the Plan is also available at the NFRMPO offices located at:
419 Canyon Avenue, Suite 300
Fort Collins, Colorado 80521
Anyone needing special accommodations to access the content of the Plan should contact Becky Karasko at bkarasko@nfrmpo.org.
Project contact: Becky Karasko, AICP — (970) 289-8281, bkarasko@nfrmpo.org