2045 RTP
The NFRMPO is currently undertaking the 2045 Regional Transportation Plan (2045 RTP). The Regional Travel Demand Model is currently being updated as are the existing conditions of the region's socioeconomic data and transportation system. Below is a current draft schedule of the adoption of the 2045 RTP.

To find out how to get involved in the 2045 RTP, visit the public comment page.
2040 RTP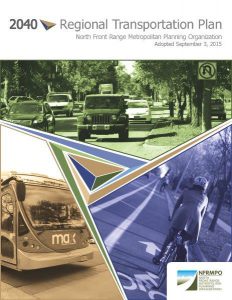 The North Front Range region enjoys a diverse and growing community, and a unique environment. The rapid and continued growth of the region requires that transportation investments keep up with development to maintain a vibrant economy. To better plan for the future of the region's transportation system, the NFRMPO has prepared the 2040 Regional Transportation Plan (RTP). The 2040 RTP is a federally-mandated plan for Metropolitan Planning Organizations (MPOs) and includes a long-term transportation vision for the region. The 2040 RTP summarizes the existing transportation system: roadways, transit, bicycle and pedestrian infrastructure, the environment, and includes a fiscally-constrained corridor plan for the future.
The 2040 RTP was amended on February 2, 2017 and June 1, 2017. View the plan at the links below, or read more about the components of the 2040 RTP.
2040 Regional Transportation Plan Amended – Complete Document
Chapter 1: Introduction
Chapter 2: Existing Transportation System
Chapter 3: Socio-Economic Profile
Chapter 4: Performance-Based Planning
Chapter 5: Environmental Profile
Chapter 6: Transportation Safety and Security
Chapter 7: Travel-Demand Analysis
Chapter 8: Plan Scenarios
Chapter 9: Vision Plan
Chapter 10: Financial Plan
Chapter 11: Congestion Management Process
Chapter 12: Implementation
Appendix A: Public Involvement
Appendix B: Air Quality Conformity
Appendix C: RTP Amendment #1 (February 2017)
Appendix D: RTP Amendment #2 (June 2017)
The 2040 RTP as approved on September 3, 2015 is available for download at the link below.
2040 Regional Transportation Plan – Complete Document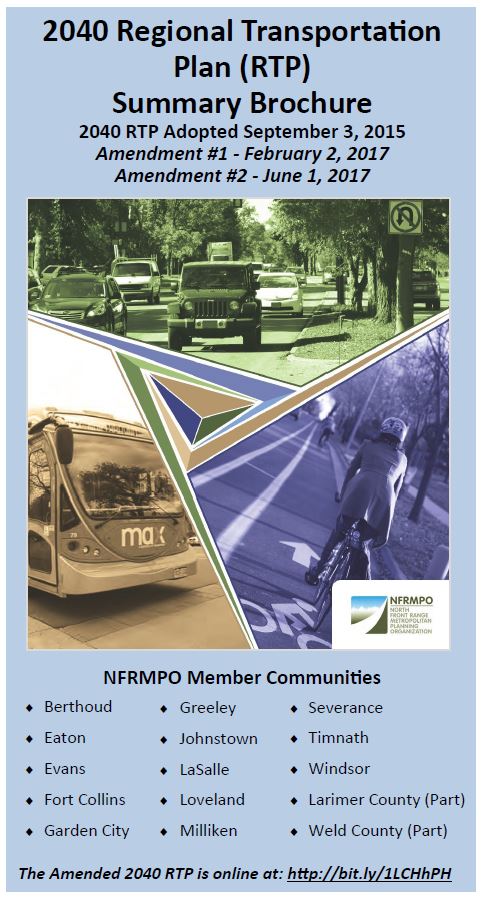 A copy of the Plan is also available at the NFRMPO offices located at:
419 Canyon Avenue, Suite 300
Fort Collins, Colorado 80521
Anyone needing special accommodations to access the content of the Plan should contact the NFRMPO at staff@nfrmpo.org.