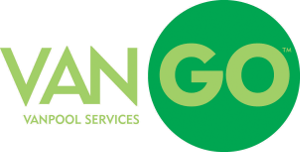 VanGo™ is the nationally-recognized vanpool program of the North Front Range Metropolitan Planning Organization (NFRMPO) with over 60 vans serving 330+ riders in the Northern Colorado, Longmont, Boulder, Golden, and Denver Metro Area.
Vanpools consist of six to seven individuals with similar commutes ranging from 20 to just under 100 miles each way. Vanpooling helps reduce single occupancy vehicle (SOV) travel, thereby easing congestion and reducing pollution.
Drive Alone? You pay for:
Gas, maintenance, repairs, insurance, and tires
Vanpoolers pay one monthly fare and enjoy:
Professional fleet maintenance
Shared driving (sleep, work, read, or text while riding)
Commuter tax benefits (for employers and employees)
HOV Lanes with 3+ riders
Guaranteed ride home
Employers benefit from vanpooling through decreased on-site shift change traffic, freed up parking spaces for visitors, commuter tax benefits, and employees who arrive more refreshed and ready for work.
To sign up for VanGo™, please visit www.vangovanpools.org.
Stay connected with VanGo™
VanGo™ Metrics Dashboard
The VanGo™ Metrics Dashboard provides a snapshot of the program "vitals", including:
Sales and Marketing
Operations
Billing
The Dashboard will be updated quarterly to provide transparency regarding the operating efficiency of the program to the hundreds of vanpoolers it serves.
Current Dashboard
2017 4th Quarter VanGo™ Dashboard
Previous Dashboards
2017 3rd Quarter VanGo™ Dashboard
2017 2nd Quarter VanGo™ Dashboard
2017 1st Quarter VanGo™ Dashboard
2016 4th Quarter VanGo™ Dashboard
2016 3rd Quarter VanGo™ Dashboard
2016 2nd Quarter VanGo™ Dashboard
2016 1st Quarter VanGo™ Dashboard
VanGo™ Newsletter: GOing Forward
The quarterly VanGo™ newsletter, "GOing Forward", provides vanpoolers with program and construction updates, safety reminders, and helpful tips for a better commute.
Current Newsletter
Previous Newsletters
September 2017 GOing Forward
June 2017 GOing Forward
March 2017 GOing Forward
December 2016 GOing Forward
September 2016 GOing Forward
June 2016 GOing Forward
March 2016 GOing Forward
VanGo™ Presentations