NFRMPO Overview
Since 1988, the North Front Range Metropolitan Planning Organization (NFRMPO) has worked to promote a regional perspective on some of the most pressing issues facing the North Front Range, specifically transportation and air quality.
The NFRMPO Planning Council administers the region's federally mandated transportation planning processes. Three members representing the region serve on the Regional Air Quality Council, one from Larimer County, one from Weld County and one from the NFRMPO.  This gives the local governments a voice in the policies and programs that are funded.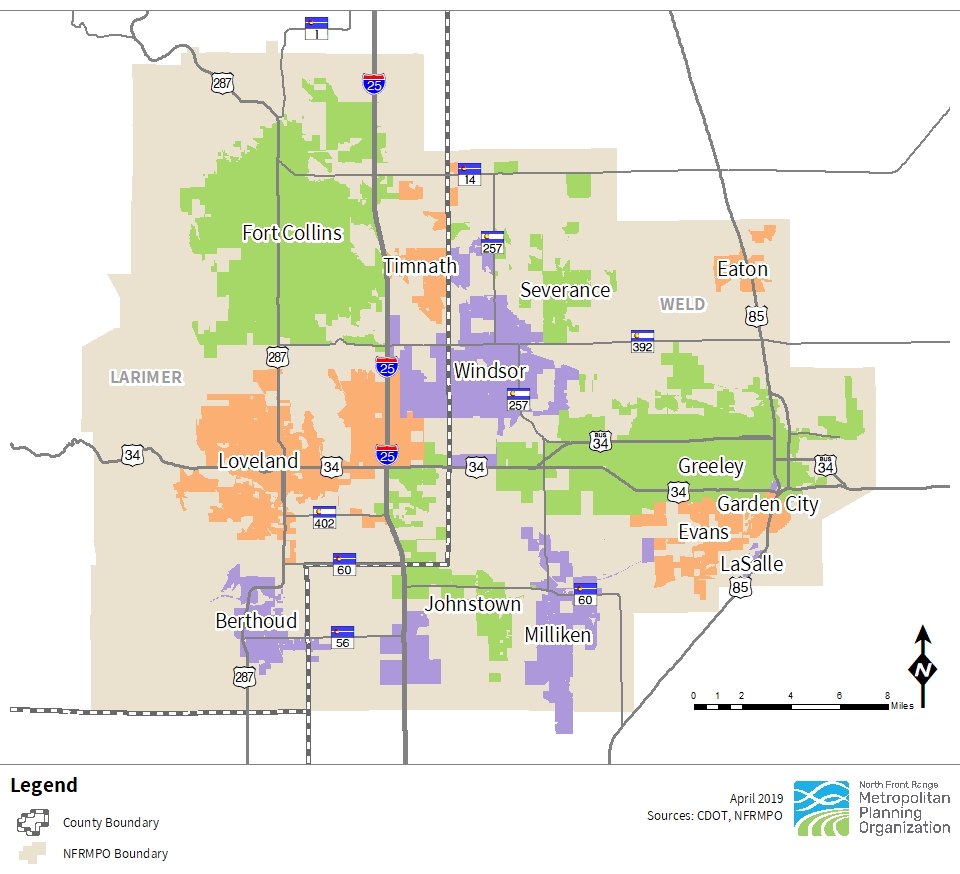 The Council is composed of one representative from each of the following member governments:
The Planning Council also has a representative from both the Transportation Commission of Colorado and the Colorado Department of Public Health and Environment (CDPHE) Air Pollution Control Division (APCD). The Planning Council receives technical expertise and advice from the Technical Advisory Committee (TAC), comprised of staff from the member entities. Finally, the Planning Council has a broad-based public involvement process to gather input on transportation plans and programs which consider the views of all citizens within the North Front Range region.
The NFRMPO's Articles of Association were adopted in 1988 and last amended in 2022.
The NFRMPO also operates VanGo™, a subscription vanpool service for commuters.  With more than 50 vanpools operating in Northern Colorado, the service provides congestion relief and air quality benefits to the region.
More information is available in the NFRMPO brochure, which is also available en español. The agency's public involvement process is detailed in the Public Involvement information sheets, also available en español.
Quadrennial Certification
Every four years the Federal Highway Administration (FHWA) and the Federal Transit Administration (FTA) conduct a transportation certification review of the planning process administered by the NFRMPO. The most recent certification occurred in 2022.
Annual Report
The NFRMPO Annual Report summarizes the accomplishments related to transportation planning, RideNoCo, VanGo™, and finance and administration within the past year.
2022 NFRMPO Annual Report
2021 NFRMPO Annual Report
2020 NFRMPO Annual Report
2019 NFRMPO Annual Report
2018 NFRMPO Annual Report
2017 NFRMPO Annual Report
2016 NFRMPO Annual Report
2015 NFRMPO Annual Report