Transportation Demand Management

Transportation Demand Management, usually shortened to TDM, is a variety of strategies that can be implemented to incentivize alternative transportation and increase the capacity of our existing transportation system. The more people who drive alone, the more traffic – but it's hard to travel if there aren't enough options that fit your needs.
TDM Action Plan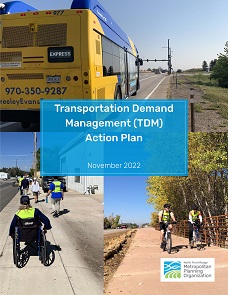 NFRMPO staff undertook the TDM Action Plan throughout 2022, convening the TDM Work Group described below. The Plan included goal- and vision-setting efforts; analysis of current needs, programs, and efforts; identification of partner agencies for ongoing partnerships and implementation; and development of a Transportation Management Organization (TMO). The planning effort analyzed different commuting trends, population, and local, regional, and state efforts. Based on these analyses, the Plan recommends the following five goals:
Enhance partnerships and collaboration between local communities, businesses, regional and State agencies, and other interested parties
Create and enhance regional TDM programming to optimize people throughput
Improve data collection to support new and expanded investments and programming
Invest in infrastructure and resources to provide additional options and help people make informed transportation choices
Communicate the purpose, benefits, and successes of providing mobility options
Planning Council adopted the TDM Action Plan on December 1, 2022.
TDM Work Group
The TDM Work Group met throughout the summer of 2022 and guided the work of the Action Plan. The members included:
Will Karspeck, Town of Berthoud and Planning Council Chair
Scott James, Weld County Commissioner and Planning Council Vice-Chair
Kristin Stephens, Larimer County Commissioner
Bill Becker, Loveland Chamber of Commerce
Wayne Chuang, Regional Air Quality Council
Melina Dempsey, Fort Collins/FCMoves
Bianca Fisher, Greeley Downtown Development Authority
Aaron Fodge, Colorado State University
Jaime Henning / Jason Jones, Greeley Chamber of Commerce
Ann Hutchison, Fort Collins Chamber of Commerce
Michael Millsapps, Aims Community College
Garrett Mumma, Colorado Division of Vocational Rehabilitation
Matthew Robenalt, Fort Collins Downtown Development Authority
Brad Speer / Jim Mullin, JBS USA
Evan Wendlandt, Larimer County Economic Development
Rich Werner, Upstate Colorado