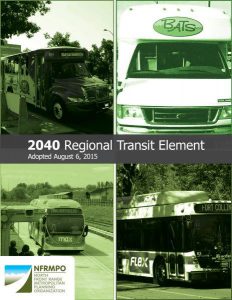 The NFRMPO developed the 2040 Regional Transit Element (RTE) ahead of the 2040 Regional Transportation Plan (RTP).  The 2040 RTE was adopted by the Planning Council on August 6, 2015.
Although originally anticipated to be an update, there were too many significant changes in the region's transit services. The 2040 RTE evaluates nine corridors for transit service in the North Front Range region. Transit corridors were evaluated in the 2040 Regional Travel Demand Model to determine potential demand for transit service in key regional corridors.
The nine corridors evaluated for potential future transit services within the region included:
Evans-to-Milliken-to-Berthoud along SH 60 and SH 56
Greeley-to-Denver along US 85
Greeley-to-Windsor-to-Fort Collins along SH 34, SH 257, and Harmony Road
Greeley-to-Longmont along US 85, SH 66, and SH 119
Greeley-to-Loveland along US 34
Fort Collins-to-Bustang (Express Route)
Greeley-to-Bustang (Express Route)
Loveland-to-Bustang (Express Route)
The proposed North I-25 Commuter Rail line from Fort Collins-to-Longmont, while not being evaluated in 2040 RTE, is discussed as an important future corridor.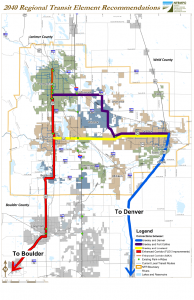 Recommendation
The 2040 RTE recommendation includes:
Further analysis of the transit connections between:

Fort Collins and Greeley/Evans area;
Greeley/Evans area and Loveland; and
Greeley/Evans area and Denver

Additional service and investment along the US 287 corridor
Plan Documents
2040 Regional Transit Element – Complete Document
List of Acronyms
Executive Summary
Chapter 1 – Introduction
Chapter 2 – Socio-Economic Profile
Chapter 3 – Existing and Planned Transit Services
Chapter 4 – Demand Analysis
Chapter 5 – Service & Corridor Alternatives
Chapter 6 – Funding & Governance
Chapter 7 – Public Involvement
Chapter 8 – Moving Forward
Appendix A – Related Planning Studies
Appendix B – Provider Summary
Appendix C – Demand Analysis
Appendix D – 2040 RTE Survey
Project contact: Becky Karasko, AICP — (970) 289-8281, bkarasko@nfrmpo.org