The 2021 Coordinated Plan update is underway. Watch this space for more info!
2021 Coordinated Plan Update
Watch this quick video explaining the Plan update:

Once you've had a chance to watch the video, please fill out this short survey to provide better context.
Find out more in this Fact Sheet
Coordinated Plan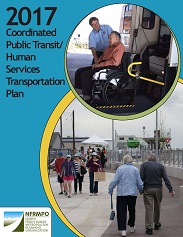 One of the largest deliverables for the NFRMPO's Mobility Coordination Program is the Coordinated Public Transit/Human Service Transportation Plan (Coordinated Plan). The current Coordinated Plan was adopted by the NFRMPO Planning Council in October 2017, with support from the Larimer County and Weld County Mobility Committees.
The Coordinated Plan brings together representatives from human service agencies and transit agencies to set strategies, goals, and objectives for the two Mobility Committees over the next four years. Human service agencies provide transportation to recognized transportation-disadvantaged groups, including seniors, individuals with disabilities, and persons with limited means. Bringing groups who serve these populations together with the transit agencies allows for each agency to better serve those in need.
SAFETEA-LU and subsequent transportation legislation requires Coordinated Plans to:
identify the transportation needs of individuals with disabilities, older adults, and people with low incomes;
provide strategies for meeting those needs; and
prioritize transportation services for funding and implementation.
For more information, please contact Alex Gordon at (970) 289-8279 or agordon@nfrmpo.org.