Quick Links:
What is Link NoCo? | What is Premium Transit? | What are the desired outcomes?
Building on Previous Efforts | LinkNoCo Timeline | Get Involved | Questions?
What is LINKNoCo?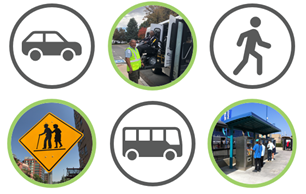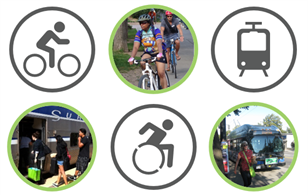 The NFRMPO desires to expand premium transit service to connect communities by preserving existing transit operations and identifying other areas that can move forward with premium transit services.
LINKNoCo will set the vision for a complete premium regional transit network and recommend top priority corridors for implementation to unite the North Front Range community.

Download the Overview Presentation
What is Premium Transit?
Premium transit means a service that offers more amenities and/or more frequent service than most local bus services. Current regional premium transit services that you might be familiar with in the area include Bustang, FLEX, MAX, and the Poudre Express.
Premium transit amenities could include:
Rail, bus, and other technologies
Bus arrival/departure information in real-time
Easy to navigate walking and biking connections to the stop/station
More frequent and/or regional service
Traffic signals that prioritize the bus over general traffic
Easy boarding with tickets purchased before you enter the bus
And much more!
What are the desired outcomes of LINKNoCo?

Building on Previous Efforts
The 2045 Regional Transit Element (RTE) embodies the North Front Range communities' vision to advance an interconnected transit network. In addition, the Front Range Passenger Rail study was recently completed identifying additional opportunities to connect communities in the region. LINKNoCo will build on these previous efforts and identify the most promising transit corridors. Below is a map of the current and future corridors identified in previous efforts.
The corridors studied are shown in the map below.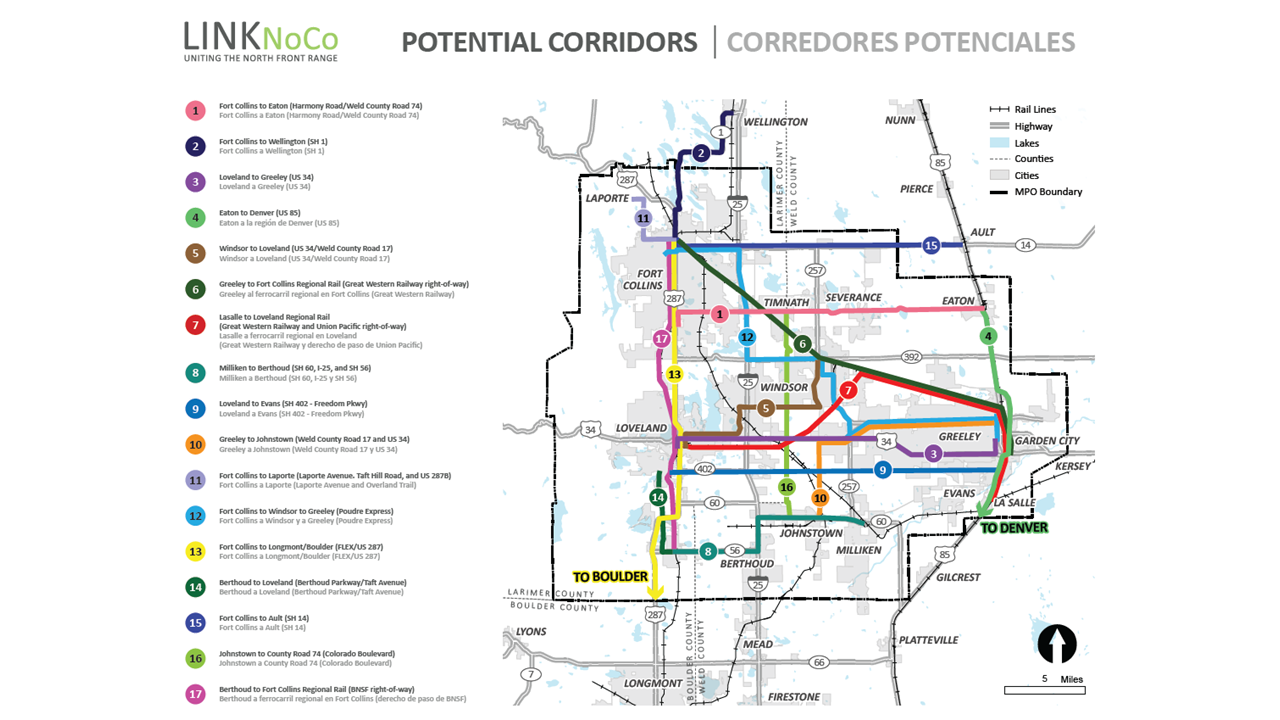 Priority Corridors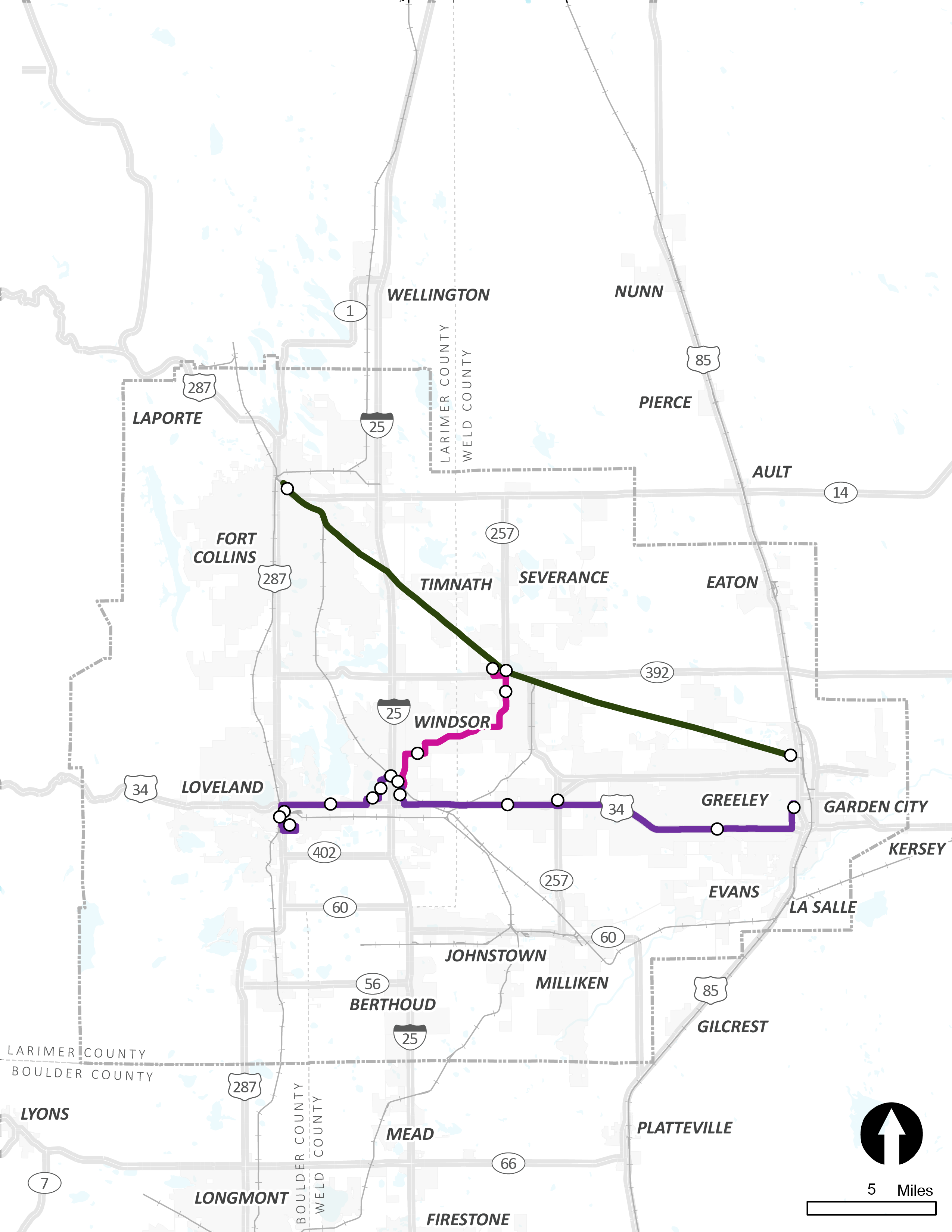 The premium transit network is being implemented incrementally. While the goal will be to ultimately advance development of the entire network, priority corridors with the highest potential will be recommended to advance first.​​
Each corridor was evaluated for:​
Connectivity to key destinations and activity centers​
Integration with existing transit services​
Potential for high ridership​
Expected cost​
Community and stakeholder support​
These corridors rose to the top of the evaluation:​
Loveland to Greeley (US 34)​
Windsor to Loveland (US 34/Weld County Road 17) ​
Greeley to Fort Collins Regional Rail (Great Western Railway)​
Current premium transit service like Poudre Express and FLEX will stay in service. In fact, the NFRMPO's 2050 Regional Transportation Plan will recommend adding more frequent service on these routes. The corridors identified through LINKNoCo that are not being advanced as priority corridors at this time will be carried forth into the 2050 Regional Transportation Plan's list of Regional Transit Corridors for investment.​
LinkNoCo Timeline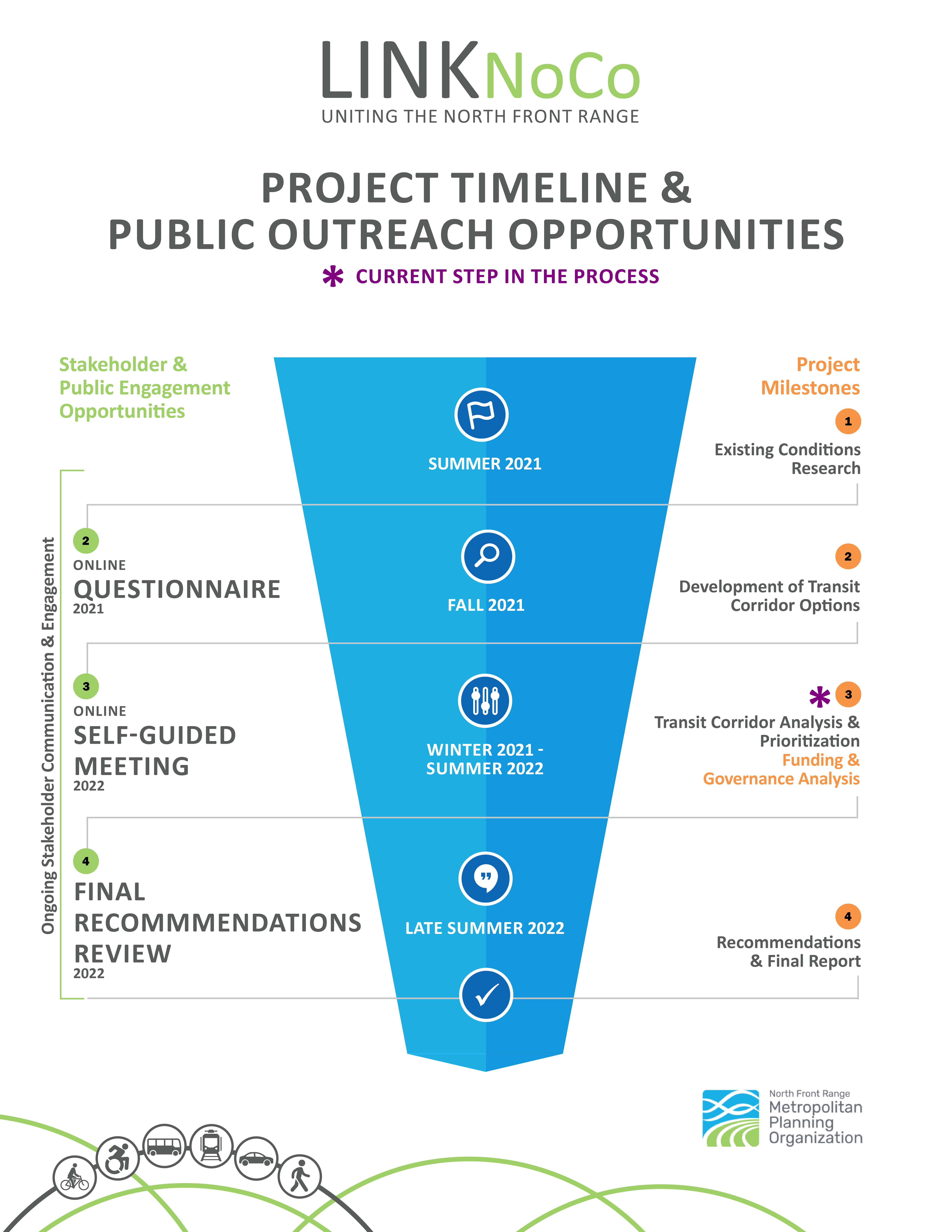 Resources
Governance and Finance Policy Advisory Committee
Guidance Committee
Get Involved
We are committed to providing an inclusive, accessible, and collaborative public engagement approach throughout the development of LINKNoCo. We invite you to join us on our journey to improve our transit system to better serve our neighbors, businesses, and visitors.
Self-Guided Online Meeting
A self-guided online meeting was open to the public between the end of May 2022 and mid-June 2022. Available in Spanish and English, this meeting presented a study overview and showed technical progress to date, including the identification of three priority corridors we are advancing first. We sought community input on these corridors to let us know if we're on the right track and if we've identified the right transit stop locations.​
Click here for the online meeting summary.
Questionnaire Summary
In fall 2021, we put out an online questionnaire to get community feedback on which North Front Range corridors most need premium transit. We also asked respondents to share their typical trip patterns, biggest barriers to using transit right now, and desire for future transit improvements. One hundred forty-eight people completed the questionnaire! Input gathered through the questionnaire influenced which corridors have been designated as priority corridors that are being advanced first to begin to form the full network. This input is also guiding our initial corridor planning, including the type of transit service recommended for each corridor and the destination, origin, and stop locations for these priority corridors.
Click here to read the questionnaire summary.
Share your ideas. We're listening. Keep an eye out for upcoming opportunities to learn more and provide your feedback.
Questions or Comments
Email: info@linknoco.com
Phone: (970) 387-8058